Refreshing hemp cocktail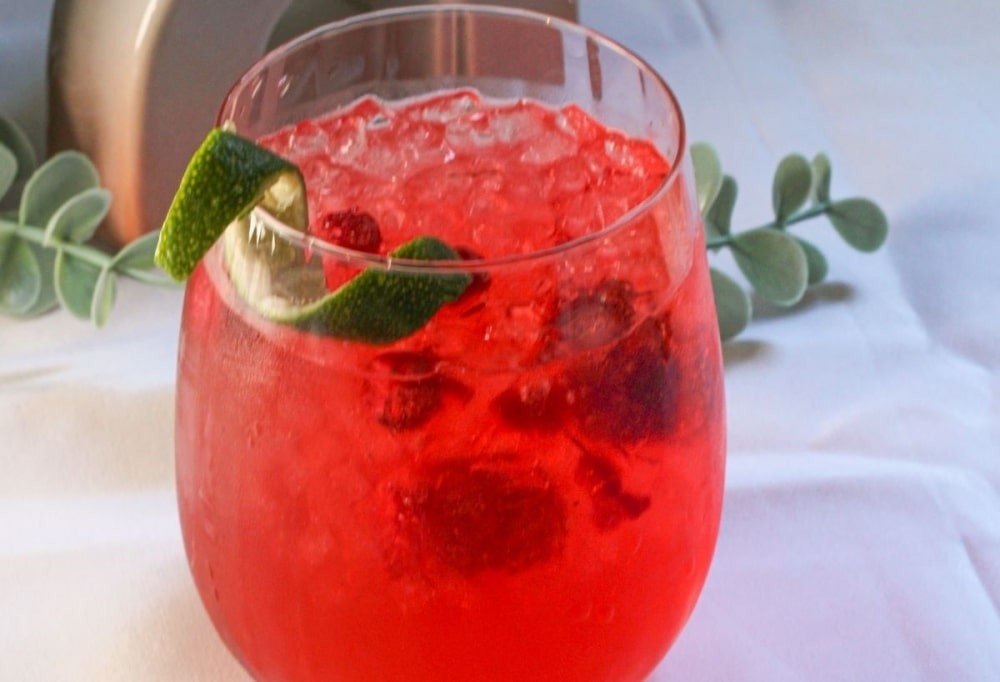 After a long day, you want nothing more than to drink a good cocktail, and we definitely found the one you need! This cocktail is fresh, detoxifying and comforting when the temperature rises or when you've had a long day. If you are a connoisseur of soft cocktails, you'll be overcome by the originality, freshness and self-indulgence of our hemp cocktail.
Ingredients for about 4 glasses
- Ice cubes
- 40 cl of water
- 6 tablespoons of CBD420 hemp infusion
- 4 tablespoons of agave syrup
- Juice from half of a lime
- 8 raspberries
- 4 lime peel slices
Easy refreshing hemp cocktail recipe
1. Boil 40 cl of water at 95°C.
2. Add 6 tablespoons of hemp infusion in a borosilicate glass jar. Add the water.
Mix with a spoon and let infuse for 8 minutes (10 minutes for a more pronounced
hemp taste).
3. In a cocktail shaker, add the ice, infusion, agave syrup, raspberries and lime
peel slices. Shake.
4. Fill a glass with ice and add the mixture.
5. Keep serving in several glasses until jar is empty.
6. To decorate, cut the lime peel into thin slices and twist them.
Bottoms up!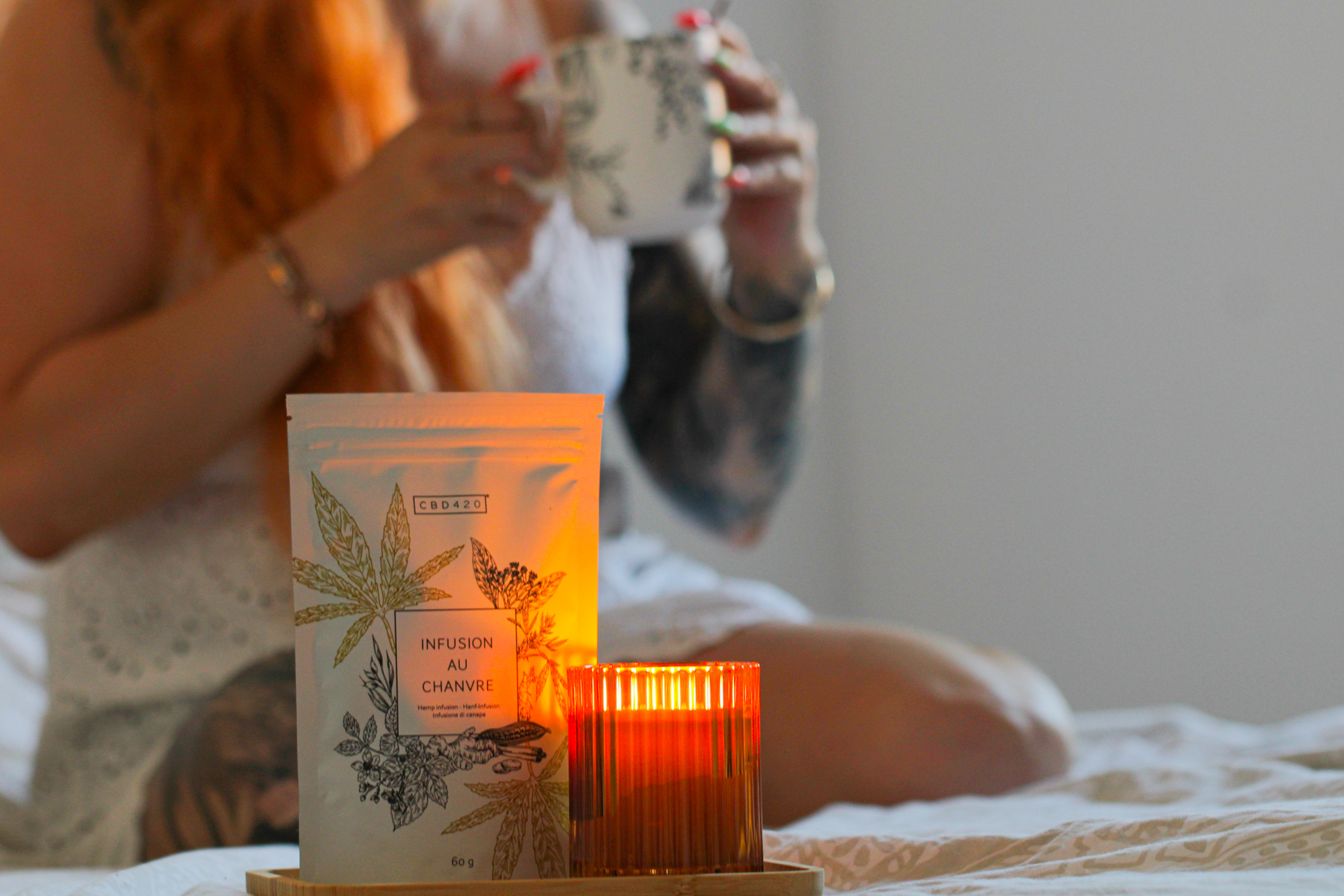 Why drink a hemp infusion before sleeping?
With its calming qualities, hemp (which is a bit less strong than CBD but just as effective) will let you fall into the arms of Morpheus…
Consume before going to bed and you won't have to count sheep for long.
Preparing a hemp infusion is easy as pie. Just heat the right amount of water and infusion (2 to 3 spoonfuls per cup) and let infuse for a few minutes (8 to 10 minutes depending on the desired effects).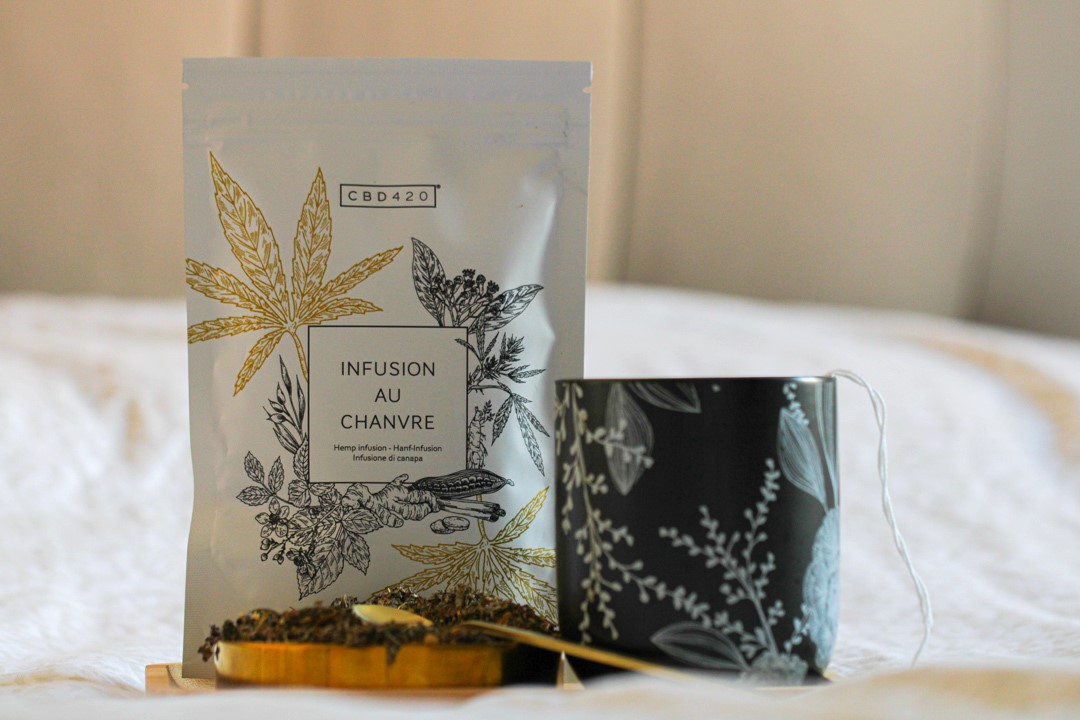 The benefits of hemp infusion for your body
CBD420 hemp infusion has different properties that act naturally on your metabolism thanks to its combination of 8 plants: hemp, raspberry, cinnamon, clove, ginger, cardamom, cannabis and licorice.
As a little extra: this infusion does not contain theine, dyes or artificial flavors. This makes it an all-natural plant-based infusion.
It thus helps you to:
- find some peace and tranquility by calming your mind and body
- fight insomnia by promoting a good night's sleep without waking up like
clockwork
- improve your digestion and better recover from a hangover (it's a powerful
anti-vomiting medication)
- achieve long-lasting relief for pain, flatulence and heartburn
If you liked our recipe, leave us a comment! And don't hesitate to share it. :)
Comments
No comment at this time!
Leave your comment