CBD Brownies, dark chocolate and pecans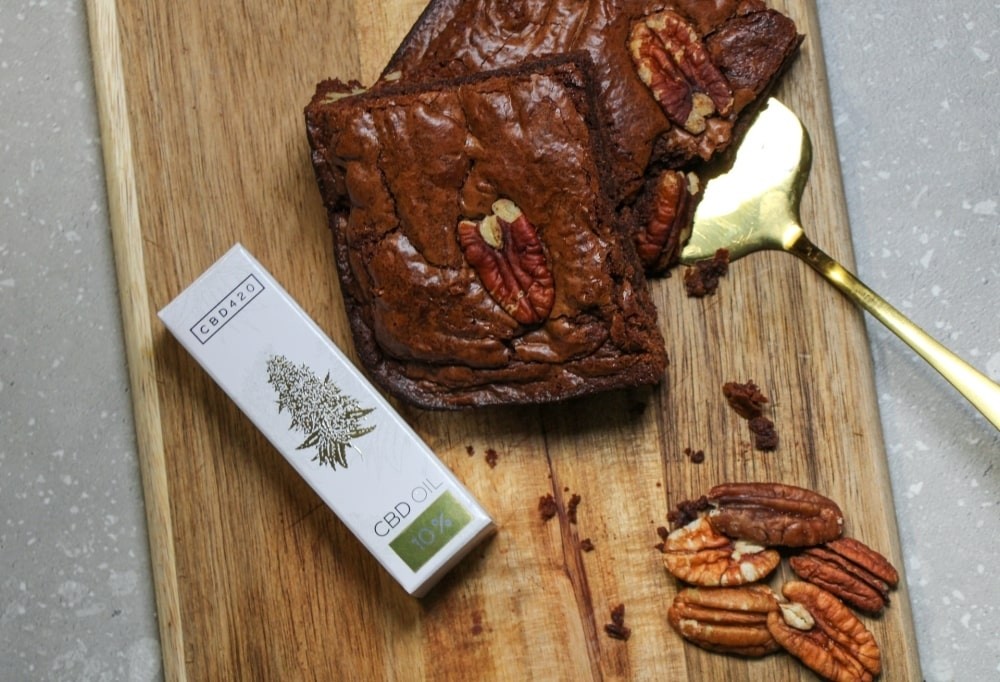 Here's a unique brownie recipe for relaxing during a snack break! We've developed this CBD brownie recipe making sure to taste test it several times in order to achieve the best flavor balance. The result is a gourmet, spongy and comforting brownie for your enjoyment.
Ingredients for about 8 brownies
200g of dark dessert making chocolate
150g of flour
150g of coconut sugar
150g of butter
50g of coconut oil, melted then cooled at room temperature
2 teaspoons of yeast
1/2 teaspoon of salt
50g of coconut oil, melted then cooled at room temperature
20 drops of CBD420 full spectrum 10% CBD oil
2 eggs
2 teaspoons of vanilla extract
100g of pecans
Quick and easy recipe for our CBD brownies
1. Place the dark chocolate and the butter (cut into segments) in a large
microwaveable bowl.
2. Microwave the mixture for 1:30 to melt it, and then smooth it with a whisk.
3. Add the coconut oil and the drops of CBD and mix.
4. In another bowl, beat the eggs, vanilla and sugar until the mixture is frothy, then
add the chocolate mix.
5. Add the yeast, salt and flour and mix until homogeneous.
6. Chop the pecans into large pieces and add them to the mixture using a rubber
or wooden spatula.
Tip: Keep a few whole pecans for garnishing.
7. Spread a little coconut oil in a square or rectangular baking pan (>20cm) so
that the brownies don't stick.
8. Garnish with the pecans left over.
9. Preheat oven to 180°C then bake for 25 minutes.
At 25 minutes, use a knife to see if the brownies are ready. If your knife can be easily removed from the brownies, they are ready.
Enjoy!

Precautions to take before, during and after cooking the CBD brownies
When cooked, the effects of the cannabinoids and terpenes in the CBD oil are gentler and more gradual. The first effects appear after at least an hour (as opposed to roughly 30 minutes when taken sublingually.) As such, if you don't feel anything, wait a bit before eating another brownie (even if it's tempting!)
The chocolate's taste and aroma tend to fade. We thus recommend a maximum of 20 drops of full spectrum 10% CBD oil for this recipe. This is the best ratio for conserving the chocolaty taste of your brownies all the while taking advantage of the benefits of CBD oil.
Also, take note that, during cooking, CBD begins to decompose at 160 to 180 °C. We thus recommend that you don't cook at a temperature higher than 180 °C so as not to lose the CBD's beneficial properties.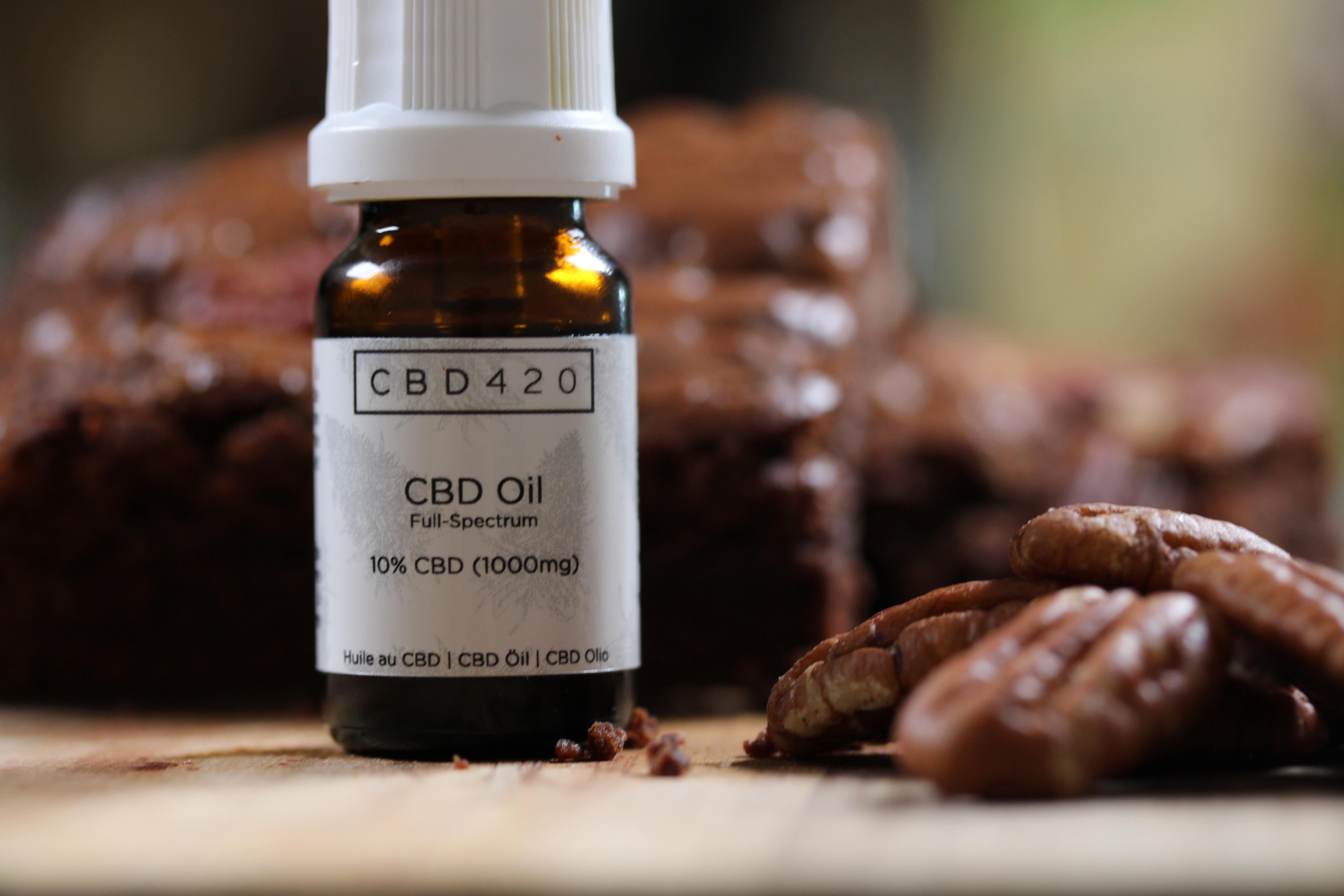 The benefits of full spectrum CBD oil
While enjoying a delicious chocolate brownie, take advantage of the relaxing and calming benefits of full spectrum CBD oil.
Full spectrum CBD oil contains all the active ingredients of the Cannabis sativa L plant. It contains several cannabinoids (CBD, CBG, CBN, CBC, THC and many others). It is also naturally rich in essential omega 3 fatty acids and vitamins C and E.
CBD has pain-relieving properties. It acts on muscle and joint pain and relieves chronic and menstrual pain. Additionally, its relaxing effects let you sleep better, recover better after intense physical activity and improve your mood.
If you liked our recipe, leave us a comment! And don't hesitate to share it. :)
Comments
No comment at this time!
Leave your comment