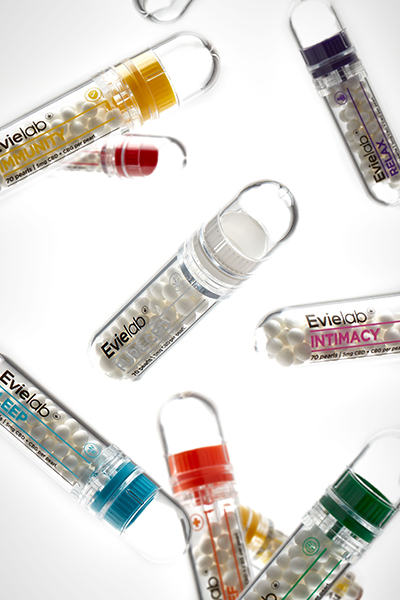 The goal was to create a more sophisticated range of CBD products to tap into every moment of daily life. This is why all of our formulations are natural, free of chemicals and additives to realise the full potential of hemp and improve people's lives all around the world.
After two years of rigorous R&D, we are proud to introduce the Evielab MicroPearl. The first in a new era of CBD products that maximises the benefits and allows everyone to enjoy every one of life's moments.
A modern way of consumption
Increased bioavailability
Acts quickly
Perfect dosage of 5mg
A complete range for each moment of the day
Safe and hygienic product
Naturally flavored by terpenes
Combinations of cbd + cbg + terpenes, made by best hemp's scientist.
THE PEARL.
Dissolve under the tongue
Give an increased bioavailability
Act as fast as 30 minutes
A pearl for each moment of the day
NATURAL COATING.
Heat resistant
Protected from light and moisture
Naturally flavored
Made with natural products
THC free
Solvent free
Non-GMO
DOSER STICK.
According to scientific studies, 25mg day is the best daily dosing . Evielab found a solution is order to answer this issue with its doser stick
70 pearls per tubes
Easy and precise distribution, twist half to get one pearl 5mg.
Medical grade plastic assembled in white room (ISO9001).
Hygienic container and dispensing to avoid finger contact.
Easy to share with friends or family.
Useful and stylish.
Pocket sized.
Augment your body and mind and enhance your performance: Pain, insomnia, immune problems, focus problems, lack of energy, or simply wanting to enhance your performance? Everyday, empower your life with your 5mg micro pearl.
EvieLab X CBD420
You certainly have noticed that at CBD420® the assortment of CBD products offered (flowers, pollens and other CBD products) are only products of the CBD420® brand.
You are probably wondering why today we are distributing products of the EVIELab brand.
As we have nothing to hide, we will explain the different reasons to you:
EvieLab is a project developed in California by a very good friend of the CBD420® family.
This is a very serious project, developed for several years in the laboratory.
For the first time, we can attest that a product without THC and without entourage effect, really provides the advertised effects.
This is a product that we have personally tested and had tested by external people, for several weeks, before making the decision to distribute it.
This is a truly innovative product and we want to contribute to its development.